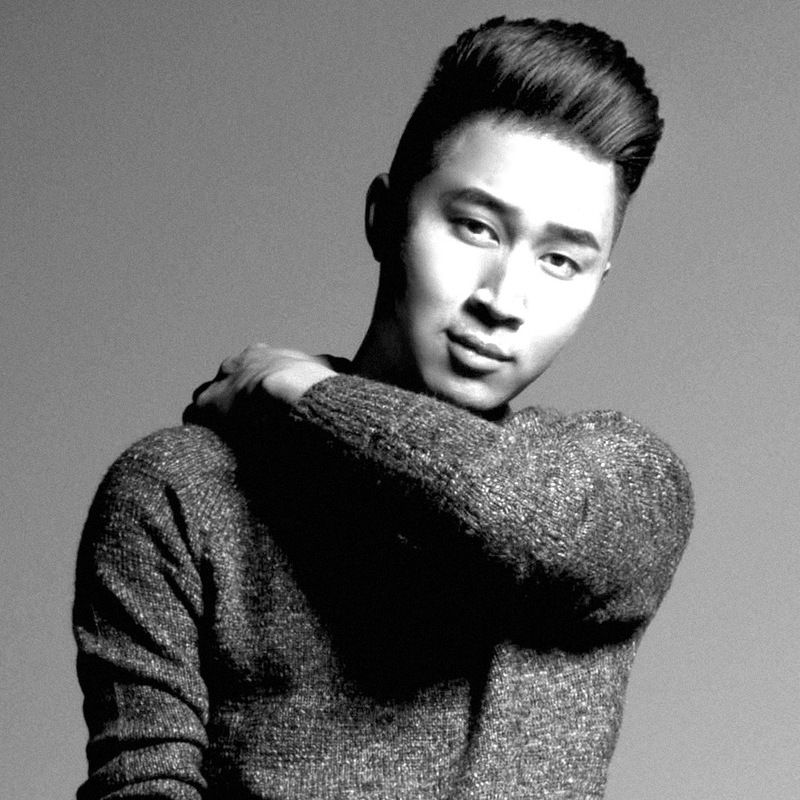 A B O U T A N T H O N Y H . N G U Y E N
Los Angeles-based celebrity makeup artist Anthony H. Nguyen is known for his versatility in creating highly innovative and cutting edge looks for the most risk-taking editorials, to simplistic beauty for the red carpet.
Before working as a celebrity makeup artist for the fashion and entertainment industry, he practiced filmmaking, theatre, & photography. He wrote, directed, filmed, & edited short films that screened internationally at film festivals such as the LA Film Fest, Channel Islands Film Fest, & the Vietnamese International Film Festival. This is where he picked up doing makeup behind the scenes and quickly drove his passion and talent to a new direction.
Now with over 9 years of experience, Anthony is not only a beauty expert in the field, he is also a beauty consultant for music videos, commercials, and advertising. Anthony has worked alongside with some of the most respected and requested photographers and directors in the business, shaping a reputable client list and is known as one of the most diverse and exciting makeup artists today.Anthony was also chosen to be one out of the thirty makeup artists from around the world to curate a limited edition eyeshadow palette for MAKE UP FOR EVER's 30th anniversary, which was exclusively sold at Sephora & MAKE UP FOR EVER boutiques.
Some of Anthony's celebrity clients include music artists Katy Perry, Tove Lo, Die Antwoord, and Brooke Candy. Anthony's work is also featured on covers & published editorials such as Vogue Ukraine, Harper's Bazaar China, Marie Claire, and Schon, and has been on set with some of the top celebrated photographers in the industry such as Ellen Von Unwerth among others. Major international campaigns and advertising also feature Anthony's work including Nike, MAC Cosmetics, YouTube, and Just Fab.
Anthony quotes, "Makeup is looking beyond the surface of the individual —it's understanding where they came from, and what they're all about. It's my passion to convey personality through diverse looks of beauty. It begins with a simple stroke, the possibilities are infinite."



R E S U M E



P H O T O G R A P H E R S
Ellen Von Unwerth, David LaChapelle, Jack Waterlot, Donna Trope, Mark Rosenthal, Renie Saliba, Hilary Walsh, Ezra Patchett, Nick Haymes, Renata Raksha, Justin Coit, Matthew Williams, Kenny Sweeny, Jason Christopher, Casey Curry, Caitlin Bellah, Jason Lee Parry, Grant Yoshino, Elias Tahan, Ari Abramczyk, Luis Valencia, Chris Callaway, Tigran Tovmasyan, Vanessa Heintz, Steven Barston, Shawn Smith, Mario Kroes, Ross Laurence, Justin Campbell, Robert John Kley, Emman Montalvan, Kevin Scanlon, Conan Thai, Ward Robinson, Giuliano Bekor, Miranda Penn Turin, Bradford Rogne, Vijat Mohindra, Janell Shirtcliff, Ross Garrett, Louie Banks, Charlotte Rutherford, Thom Kerr, Brian Ziff

Floria Sigismondi, Jonas Akerlund, Darren Craig, Tim Erem, Hannah Lux Davis, Emil Nava, Ninja of Die Antwoord, Marc Klasfeld, Daniel Carberry, David Richardson, Justin Coit, Justin Francis, Blue Gregory, Will Joines, Martin & Nick, Meredith Danluck, Renata Raksha

Elle China, Elle Bulgaria, Comsopolitan Turkey,Vogue Ukraine, Harper's Bazaar China, August Man, L'Officiel, Flaunt, Paper, Style Mag Norway, Marie Claire, Lovecat, Schön!, Treats, GQ Style, GQ Russia, VIBE, MTV Style, You Magazine, The Sun UK, Work Magazine, Who What Wear, Nylon, VICE, Papercut, GLITTER, Genlux, Galore, Bite, ICON, Vaga Magazine, Fault, Unleash'd, Photogenics Mag, Bullet, Kode Magazine, Glassbook, Fault, the Laterals, Manifesto, Variety, People Mag, LadyGunn, Smash Mag, Old Tag Mag, King Kong Magazine, Ladygunn, XOXO, Laud, End Paper

MAC Cosmetics, Anastasia Beverly Hills, YouTube, J Brand, Nike, JustFab, Fabletics, Dermstore, OUAI Haircare, Unite Hair, Citi Bank, Epic Records, LeSportSac, Joyrich, Kill City, Halfman Romantics, Love Culture, ZiGi Shoes, Z London, Tom Tom Jewelry, Woodleigh Clothing, Just One Eye, Shop SOKO, ALO, Eneday, Beats by Dr Dre, Design With Purpose, Dermstore Beauty Group, Blush Dot Com, Junk Food Clothing, HYPR Crush Clothing, Agave Denim, Soho Beauty, Tobi, DSW Designer Shoe Warehouse, Crippen LA, Kestrel Bags, Tartan + Twine, Lucy Paris, Lucy Wild, Quest Nutrition, Delano Hotel, American Apparel, Em Cosmetics, Daniel Rainn
T V / F I L M
YouTube Campaign, Dazed and Confused, Fashion Police, Pierce Morgan, Good Morning America, Jimmy Kimmel Live, Conan O' Brien, Fashion Police, Who What Wear TV "Schooled in Style" webisodes (JC Penny), Who What Wear TV "Ask A Stylist" webisodes (Bloomingdales), E! News Swim Shoot for Who What Wear 2011, TV Guide, Home Shopping Network, EXTRA, JustFabulous TV, Brooke Candy Music Video "Das What Everybody Does" "P***y Make the Rules", "Paper Or Plastic", Bonnie McKee Music Video "American Girl" "Stars In Your Heart", "Bombastic", "I Want It All", "Wasted Youth", "Easy", Ivy Levan Music Video "Hot Damn", "Who Can You Trust", Just Fab international commercial 2012, Brother VS. Brother, Mila J Music Video "Pain In My Heart", Die Antwoord Music Video "Ugly Boy" "Faded Fat F*** Face", Azealia Banks Music Video "Chasing Time", Germany's Next Top Model, Tove Lo Music Video "Timebomb", Peaches ft. Kim Gordon Music Video "Closeup", Dua Lipa Music Video "Last Dance", Kiiara Musc Video "Gold", American Idol, Laleh Music Video for Adam Lambert's "Wecome to the Show", Whose Line Is It Anyway, Lizzo Music Video "Where the Hell My Phone" "Scuse Me", Kirstin Maldonado Music Video "Break A Little"
R U N W A Y
Monique Lhuillier, Oscar de la Renta, St. John, Olima Atelier, Dolce & Gabbana, Fendi, Ted Baker, Donna Karen, Max Mara, Paul Frank, YSL, Miu Miu, Diesel, Christian Dior, Chloe, Oday Shakar, Anqi by Crustacean grand opening fashion show, LA Fashion Week with Project Runway's Gordana Gehlhausen & Jesus Estrada, Austrailia Week (G'day USA 2011) Fashion Show, M.A.C Posh Paradise body painting event (Las Vegas, NV/ Costa Mesa, CA)
C E L E B R I T Y & A R T I S T S

AMANDA LEPORE
ANDREJA PEJIC
ASHANTI

ASHLEY BENSON
AZEALIA BANKS
BANKS
BECKY G
BELLAMY YOUNG
BONNIE MCKEE
BROOKE CANDY
CANDY SPELLING
CARA DELEVINGNE
CASSIE

CINDY CRAWFORD
CRYSTAL HEFNER
DIE ANTWOORD
DREW SCOTT
DOROTHY WANG
DUA LIPA
FAIRUZA BALK
FERRAS
FIFTH HARMONY
FIRST AID KIT
FIVE KNIVES
FRANCES BEAN COBAIN
GIGI GORGEOUS
HANNAH NEW
HILARY DUFF
IVY LEVAN
JACKIE CRUZ
JENJI KOHAN
JENNA DEWAN-TATUM
JONATHAN SCOTT
JOSEPH GORDON-LEVITT
KATHERINE JACKSON
KATIE VEGA
KATY PERRY

KIIARA
KIM GORDON
KIRSTEN MALDONADO
LALEH
LAUREN HUTTON

LAUREN JAUREGUI
LEONA LEWIS
LINDSEY WIXON
LIZZO
LIZZY JAGGER
MADDIE ZIEGLER
MADISON BEER
MEGHAN TRAINOR
MICHELLE PHAN
MILA J


NATHALIA RAMOS
NAOMI CAMPBELL
NICKY HILTON
NINJA
NOAH CYRUS
PAMELA ANDERSON
PARIS HILTON
PEACHES
RITA ORA
ROSE MCGOWAN
RYN WEAVER
SHANNAN CLICK
STACY DASH
STACY KIEBLER
TAMERA MOWRY-HOUSLEY
TAMMIN SURSOK

THE BIG PINK
TODRICK HALL
TOVE LO
TYGA
VICTORIA JUSTICE
VIVICA A. FOX
YO-LANDI VI$$ER